With the COVID Alert Level dropping to Level 1, business establishments start to re-open for on-site work preparations.
On 14th March 2022. KELPHIL starts the hybrid working setup. A schedule shifting where employees alternately work at the office and home to maintain a minimal crowd quantity. KELPHIL aims for a full manpower on-site operation after a month of hybrid setup.
Along with this gradual shift, KELPHIL ensures minimal to no cases of COVID-19 infection among its employees by establishing the following COVID-19 preventive measures:
SHUTTLE SERVICE
Transportation has been a major challenge for employees even before the pandemic and the alert level restrictions did not make it easier afterward. Taking this into consideration, KELPHIL provides shuttle services to its employees to and from work.
This has become a must these days especially since offices are enclosed spaces and airconditioned. In KELPHIL, a significant number of air purifiers are stationed at corners of the workplace, especially at pathways and areas that are frequently visited by people.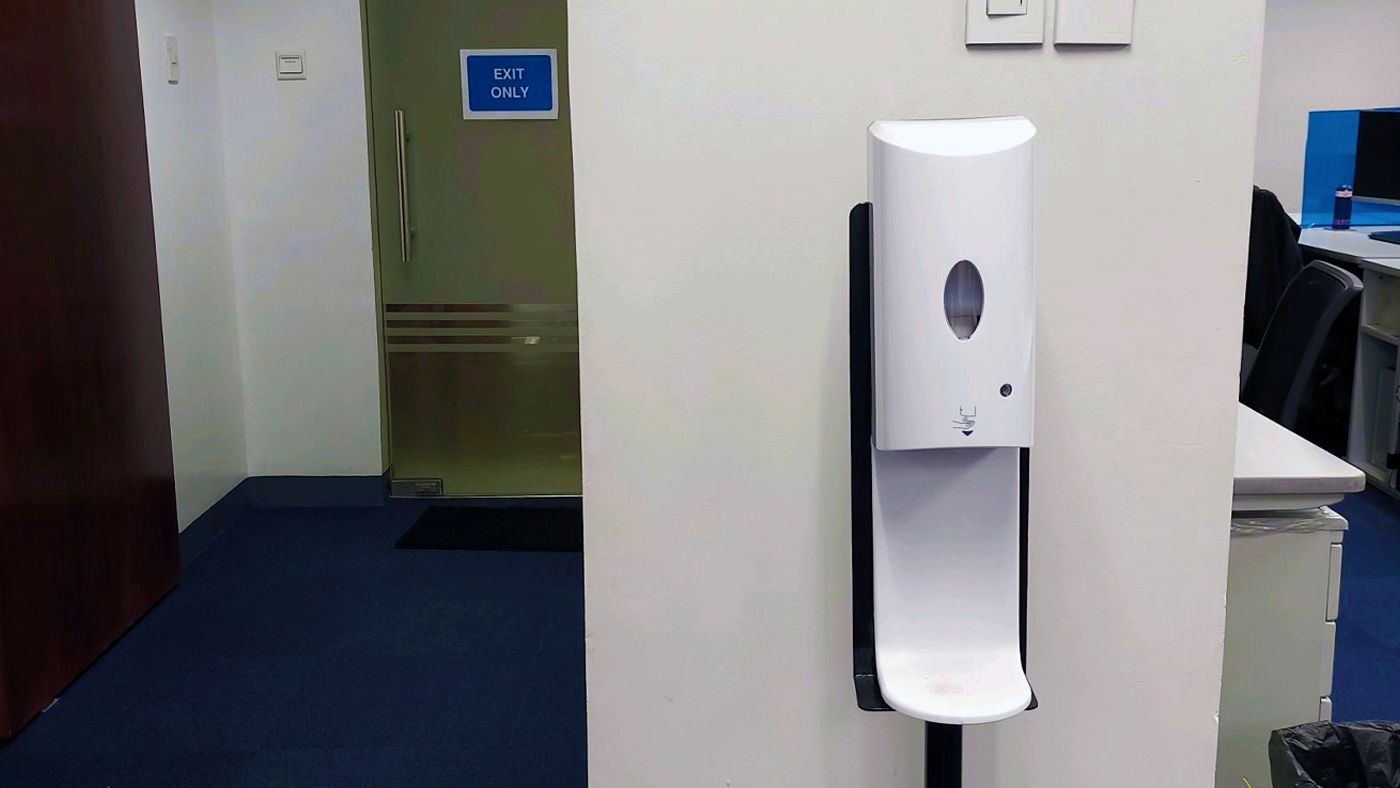 While having one's own alcohol for sanitizing is being widely practiced these days, KELPHIL still makes an effort to guarantee workplace cleanliness by providing sanitation stands of disinfecting alcohol dispensers inside the office.
HEALTH CHECK AND SOCIAL DISTANCING REMINDERS
A notable part of the "new normal" that is being observed by almost all public establishments is the health check and social distancing protocols. As part of its COVID prevention measures, KELPHIL also provided a temperature checking device at the entrance of the office. Social distancing is also being advised. As KELPHIL's hybrid work setup concludes, 100% back-to-office immediately follows. After two years of work-from-home setup since 2019 and then practicing the hybrid system for a month this March 2022, KELPHIL resumes full manpower on-site work in April.
Welcoming the employees is the revamped entrance to KELPHIL displaying its new logo