Last February 24, 2022, the Tekla Team of Fabrication Design Group attended a "Supercharge Your Workflow with Tekla Structures" webinar conducted by Vibrant Technology Solutions (VTS) via Google Meet. VTS introduced some of Tekla's latest products that would help us improve efficiency in Structural Steel Detailing, lessen downtime by producing accurate documents, share your model with the team for smooth collaboration and optimize your Fabrication Management thru a systematic and collaborative approach.
VTS discussed Tekla's six (6) main products which are Tekla Structures, Tekla Structural Designer, Tekla Tedds, Tekla PowerFab, Tekla Model Sharing for Tekla Structures and Trimble Connect. Fabrication Design Group is currently using Tekla Structures and Tekla Model Sharing for Tekla Structures.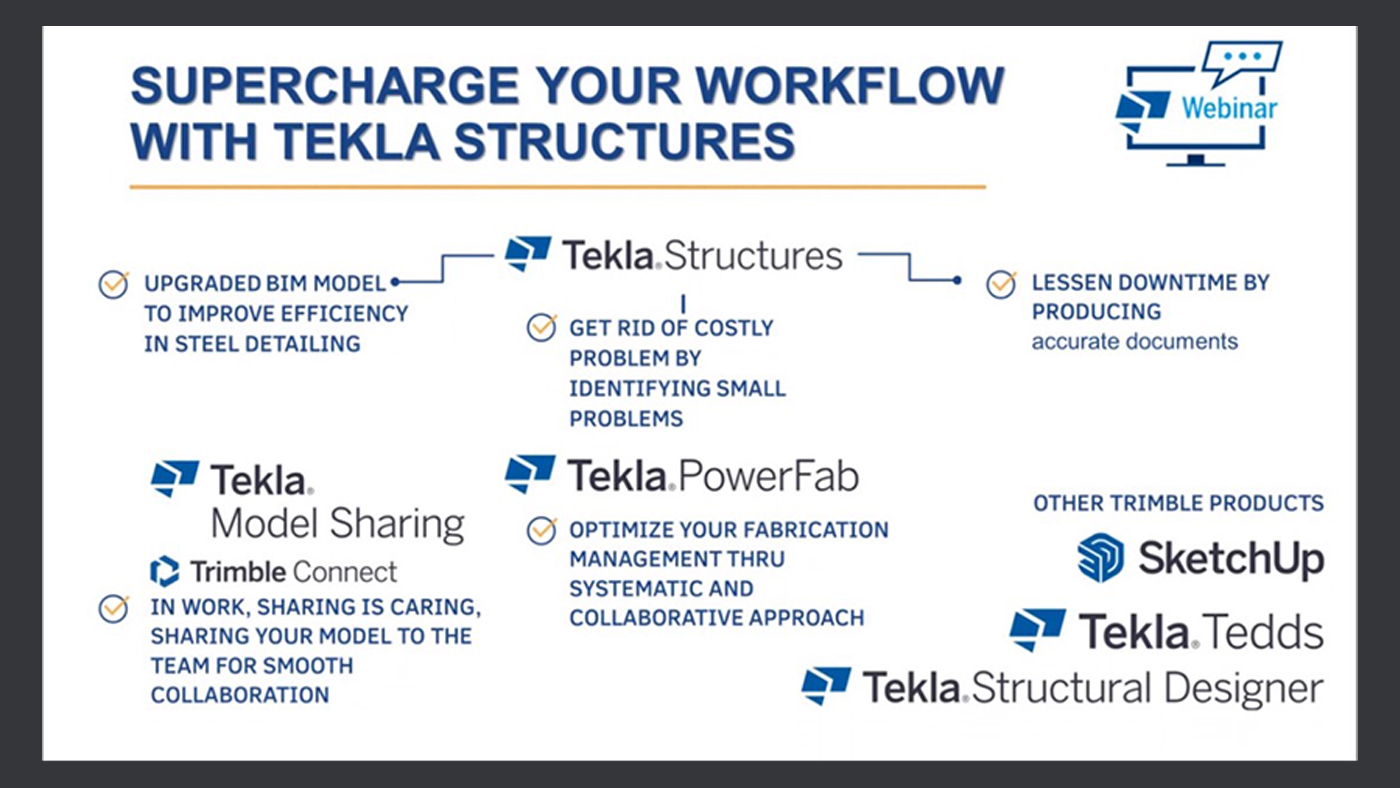 Let me introduce to  you the two (2) products that we are using in Fabrication Design Group: Tekla Structures and Tekla Model Sharing for Tekla Structures.
1. Tekla Structures is basically structural detailing and building information modeling software. It is the most advanced BIM software to create, combine, and manage 3D models packed with real construction information.
You can use Tekla Structure in the project from planning to fabrication and from construction to maintenance and information management.
2. Tekla Model Sharing enables efficient global collaborative modeling within one Tekla Structures model. Tekla Model Sharing gives users the freedom to work with the same model at the same time in different locations and timezones. With Tekla Model Sharing you can work locally and share the model changes globally. For example, one Tekla Model Sharing team of users can work in Japan, one in the Philippines, and one in New York. They all contribute to the same model, working around the globe during their office hours in different time zones while the model keeps building up all the time.
We know that the construction industry nowadays has the opportunity to digitally transform performance and modernize. BIM is much more than just photorealistic project visualization and clash detection. With Tekla, true and accurate information is possible. We can more efficiently design, construct, and maintain buildings to benefit builders and users alike using Tekla. With truly a constructible process, teams enjoy clear communication on projects of every size, even while working in different parts of the world. Work is shared with the right people 24/7 to keep team members well informed and in the loop.